Alternative title: Don't sew when your mad!
Here is my 12 in 12 submission for this month. A pair of refashioned yoga pants for my little Anna. This month it was 'Something in Knit' (Darn Knit!)
Doesn't she looked please! lol! (And like she loves having her hair done!)
I took this Roxy top of mine that is to small now.....
Cut it into pieces......and ended up with this!
A little happier but still looks like no one owns her!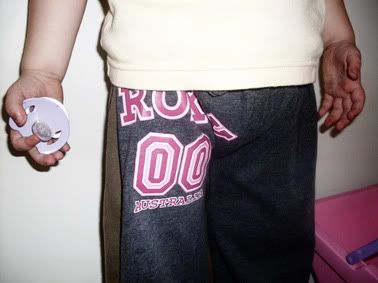 It has a roll over top. She does actually love them. They may turn in to the bottom half a PJ set I think as I was a little flustered when I sewed them and ended up needing to make quite a few adjustments here and there. And there was some unpicking along the way. All in all though happy with the outcome.
In other news, I turned 28 on Friday!
We dined on a super yummy Chinese dinner.....complete with Tinkerbell table wear. (
Thanks guys
..lol!)
My birthday card from my gorgeous nephew Caleb.....
Chocolate AND Caramel Mudcake!
(I kinda look pretty horrible here)
Special thanks to my
Brother Daniel
, my SIL
Melissa
, my loving children and of course the major person that was missing on the night, my Mum! (Mum is currently over in the Soloman Island for work but was definitely here in spirit!)